Welcome to GeoPhoenix -- a website devoted to
the spectacular geography, geology, scenery, and points of interest
in the Phoenix area.

PLEASE NOTE:

THIS WEBSITE IS IN REDESIGN AND TRANSITION

We are in the process of moving geological material from GemLand

®


to this site, making it more specific and local. Clicking on a link on the map
will for the time being take you to the corresponding image sequence
and page on GemLand's main website.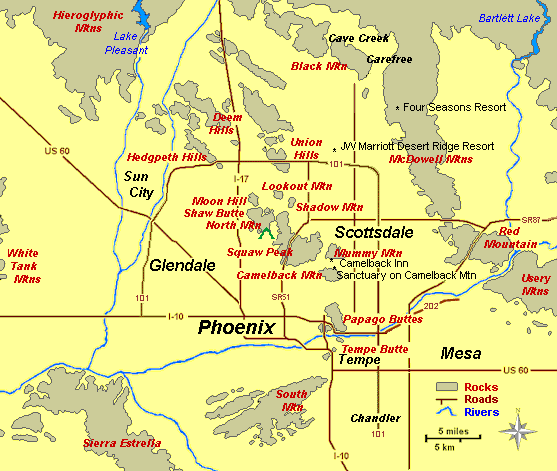 The area shown above measures about 50 miles
(80 km) West to East, by 40 miles (64km)
North to South, and encompasses
approximately 2000 square miles (5200 km).

Population (year 2012) of the Phoenix Metropolitan Area is estimated to be about 4.4 million. Towering
sun-blasted rock formations and exotic cacti abound in this northern region of the vast Sonoran Desert.

This map and all of its contents, except the view below,
(C) 2012 by Richard Allen and GemLand.
All rights reserved.